For every building, a taylor-made Celsius Energy solution
Our team analyses your energy needs and your site's specifics and potential.
Step 2
Design of your solution
Our engineering department optimizes and plans the drilling, the heat pump room and control system adapted to your building. In accordance with ADEME, the Celsius Energy solution is ecologic. Our service guarantees excellent return on investment.
Step 3
Execution anD implementation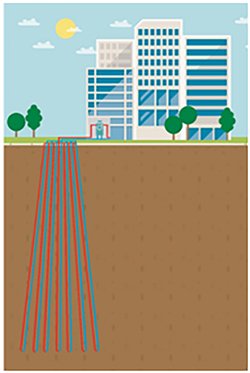 In partnership with the leading energy supply leaders, we connect your building with the underground and install heating equipment that also allows cooling. The surface space occupancy is minimal.
The complete process is mastered from A to Z, providing a turnkey solution.
Step 4
Added value and ecologic comfort for all year round
Once the solution is installed, the temperature of the building is regulated throughout the year. The energy from the ground is used in a renewable manner and divides your CO2 emissions by 10. The Celsius Energy solution adds value to your building and your site.
Step 5
Maintenance and service
A single system provides the heating and cooling as well as the domestic hot water. The digital control system of the Celsius Energy solution minimizes the electricity consumption by optimizing the use of the underground and the heat pumps coupled to the building. A digital twin guarantees the performance of the system and reduces the maintenance of the connected heat pumps. The power consumption and state of the system are visualized at all times via an easy-to-use digital interface.