A geoenergy solution for heating and cooling buildings, Celsius Energy provides occupants with low-carbon thermal comfort all year round.
The Celsius Energy system, a combination of proven existing processes, consists of three main elements:
The Celsius Energy system is mainly composed of three elements:
A closed pyramid-shaped geothermal energy exchanger, equipped with double-U probes, typically 200 meters deep, in which a heat transfer fluid circulates. This innovative structure drastically reduces the surface footprint while optimizing the thermal exploitation of the underground. The solution is therefore suitable for both new buildings and renovations, even in dense urban areas.
A heat pump allows calories to be exchanged with the underground, to supply them to the building in winter and extract them in summer. The simultaneous supply of hot and cold is also possible.
A digital control minimizes electricity consumption by optimizing the operation of the subsurface and the use of heat pumps coupled to the building in real time. Digital control also guarantees system performance and reduces the maintenance of connected heat pumps.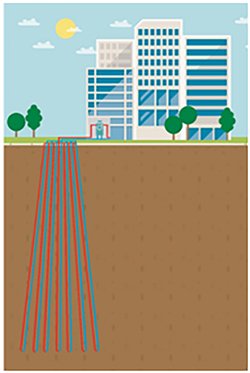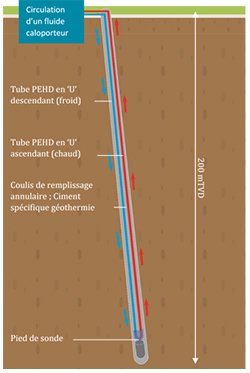 AFFORDABLE, FINANCEABLE AND COST-EFFECTIVE
Celsius Energy provides a 70% reduction in building energy consumption, by covering 80 to 100% of their heating and cooling needs using geothermal energy, including domestic hot water.
Generating heating and cooling from the same system reduces the number of probes necessary and thus the overall investment cost (inter-seasonal thermal energy storage).
The initial investment is optimized by using a system approach that combines both underground and construction expertise.
Lastly, the reduction in operating expenses, primarily due to digital control, results in a return on investment generally between 5 and 12 years.
Celsius Energy also provides financial solution proposals.
ADDED VALUE
By perfectly integrating sustainable low-carbon construction and innovative ecodistrict strategies, the Celsius Energy solution adds value to the buildings that use it.
In accordance with new heating and cooling regulations, it can optimize the ecological bonus-malus: receiving labels and achieving energy and carbon performance levels.
The absence of exterior equipment (heat pump, air conditioning unit) makes it an aesthetic solution, with zero noise and visual impact.
LOCAL
The energy source used by Celsius Energy is unlimited and 100% local, thus reducing dependency on imported fossil fuels.

Thirty percent of CO2 emissions come from buildings, and 25% from their heating and air conditioning. Cooling needs will triple by 2050.
Compliance with the Paris Agreements requires radically rethinking heating and cooling for existing buildings and innovation for new construction.
REDUCTION OF CARBON EMISSIONS
Celsius Energy can heat and cool buildings while eliminating 90% of CO₂ emissions per kWh generated compared to the benchmark solution in France (gas and chillers).
After 20 years, Celsius Energy's global warming potential is ten times lower than that of gas heating.
The Life Cycle Assessment of the Celsius Energy solution carried out by an independent specialized firm shows that the environmental impact of the Celsius Energy solution is offset in 10 months compared to the reference heating solution, gas.
Celsius Energy encourages obtaining the labels expressed by the contracting authority, with a projection of reduced primary energy consumption through the use of electric heat pumps, displaying an excellent coefficient of performance (COP).
DOES NOT CONTRIBUTE TO URBAN HEAT ISLANDS
Celsius Energy cools buildings without releasing hot air outside the building. Thus, our solution does not contribute to the phenomenon of urban islands.
NO EXTRACTION OR DISCHARGE
The Celsius Energy system produces no discharge and is not the source of any extraction or injection into the ground (closed circuit). Only thermies (calories and frigories) are extracted, most of which are reinjected, according to the changing seasons.

A SYSTEM THAT GOES ANYWHERE THANKS TO STAR-SHAPED DRILLING
The small surface footprint (equal to half a parking space) of Celsius Energy's solution thanks to star-shaped drilling, during and after installation, makes it adaptable to most new as well as existing buildings.
It can be installed anywhere, even in dense urban areas.
In the case of new construction, the impact on site planning and delivery terms is minimal and thus causes very little interference with the rest of the construction.
CONSTANT ENERGY
Geothermal energy is constant, renewable, continuous, and endless over human life, for the entire life of the building.
It is available all year long, day and night, regardless of exterior conditions. It is not subject to intermittent supply like other renewable energy sources (solar, wind).
A TURNKEY REMOTE CONTROLLABLE SOLUTION
Celsius Energy supports you, from the design phase to use and management of your system.
A digital plug & play interface, by computer and telephone, enables one-click real-time management of consumption and performance.
A DEPENDABLE SOLUTION BACKED BY A GROUP OF EXPERTS
The Celsius Energy solution combines existing processes, including star-shaped drilling and digital optimization of complex systems, proven in other industries.
Our company also benefits from the support and know-how of Schlumberger, a major industrial group of experts in drilling, engineering and R&D.

Let's
Connect
Celsius Energy offers to evaluate the feasibility of our solution for your buildings and provide an estimate of the various technical, financial and environmental parameters.