Did you know
that every building sits atop of a massive energy source directly from the Earth?
By harnessing the Earth's geothermal energy through ground source heat pumps, Celsius Energy delivers heating and cooling solution while reducing CO2 emissions by as much as 90%.
70%
of the energy a building needs is available underground

25%
of greenhouse gas emissions come from building heating and cooling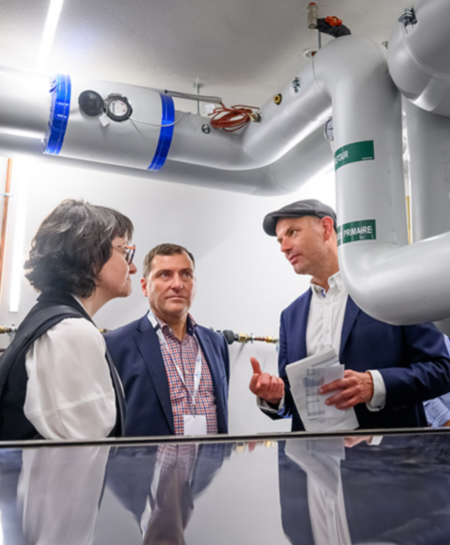 What We Do
Celsius Energy brings an innovative low-carbon heating and cooling solution to buildings powered by the Earth.
We provide access to local, efficient, and resilient geoenergy available right below your feet. By applying our proven digital and technological tools, we help to create the energy of the future.
Celsius Energy holds a prestigious Solar Impulse Efficient Solution label. Celsius Energy and SLB received the SEAL Sustainable Service Award for the Celsius Energy solution. The United Nations has recognized our solution as one of the 50 most promising solutions for combating climate change worldwide.
Whether you need a cooling system to provide thermal comfort during heat waves or warmth during icy weather, Celsius Energy is the ultimate solution for all your heating and cooling needs. Get the temperature regulation you need to reach ultimate thermal comfort with an affordable, secure and sustainable solution for all your thermal energy needs.
Learn about our projects
Let's talk about your next project.
Ground-Breaking Technology
We have a proven method for increasing operational efficiency and decreasing carbon emissions through sustainable building heating and cooling systems. See how!
Let's Talk Solutions
Benefits of Celsius Energy Solution
Suited for most new and existing buildings, even in dense urban areas
A compact solution using less land than wind or solar PVs, requiring minimal maintenance
Online interface to monitor and manage consumption and performance in real-time
Reduces operating expenses on average by 40%-50%
Lowers energy consumption on average by approximately 60%

ROI within 5-12 years
Cuts CO2 emissions by 90% per kWh generated compared to gas and chillers

Decreases dependence on imported fossil fuels

Harnesses a constant renewable energy by accumulating and re-using summer heat from

season to season